Day Eleven Interview with Kimmo & Janne, 14.09.2007 Magdeburg/ Factory
(c) by Frances Amelie Sin™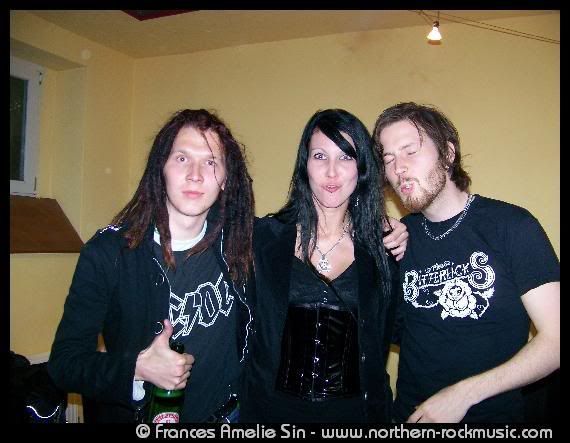 This is you first time in Germany, how do you feel, what do you expect??
Janne: I expect a lot of people we can play for. And it is the first time we are doing a longer tour actually.
Kimmo: Well that will be cool, playing a lot of shows in a row, just after getting a few shows it starts getting so much more fun. It's like our second nature.
I don't know but I think none of us had been in Germany before...
Janne: Yes we had been here, but just on personal stuff like holidays. I was here interrailing.
I think there will be a lot of new experiences as a band for us now.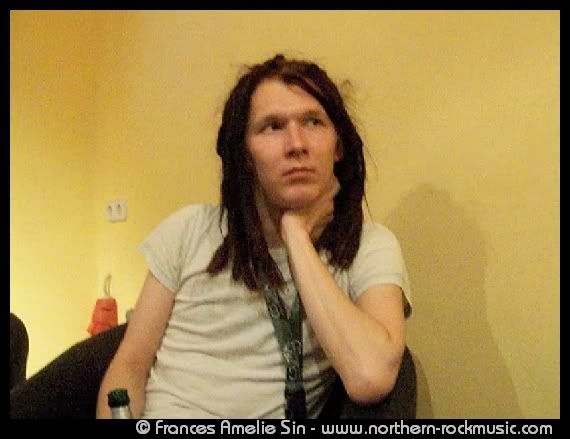 Did you proof if you can be together for such a long time in a small space??

Janne: You know we are such very close friends for soo many years...
Kimmo: I went with Janne to the musical play school when we were four years old, so we know each other for 23 years now, and all the other guys, we play together for 10 years now, so I think it fits, we are like brothers, sometimes we fight but we still go on!
Tell me some IMPORTANT things about Day Eleven!
Janne: Ok I always tell the people, that we are a band that first of all based on friendship, we've grown up all together in the band, we started to play guitar when we heard G'n'R, Nirvana and stuff like that, these bands from the beginning of the 90th are in the core of the band, but we try to take all influences we can get. So we bring all the stuff together and I hope we sound original.
Kimmo: You know, this band wasn't created to play some special kind of music, we always had been together, just started playing together cause we had fun doing it. Maybe thats something that makes our music honest! It's like we have no choice but to do this, because ist just the way of living for us.
We never go like "oh we have to sound like this or that", our music is just what comes out of us.
Janne: we are probably very open minded to music as a whole, I think that's what is important.
Kimmo: Yeah we like to listen to every type of music, exept maybe for hardcore trance (XD) or maybe that new american country music, that sucks a bit.
How is the succsess of your second album Sleepwalkers in Finland, it was released in march there.
Kimmo: Well yes, in march and in Germany actually today!!
Janne: Well the reviews have been positive so far.
Kimmo: Yeah in Finland it is special you know, the succsess with the critics and then the commercial sucks, but at least we have the critics on our side, well it doesn't mean much in the end but we are happy.
Janne: Well the album made it possible to come to places we haven't reached before, you know without that album we wouldn't be sitting here. We are going forward, it's looking good!
Kimmo: Yeah like we are talking to you here today, the album is released here today, so it's good for us, small steps but we are happy.
Will you release a single too in Germany
??
Kimmo: Nope, just for Radio not for commercial.
What is the inspiration for your songs??

Janne: Well our lyrics are mostly about our life, and of course some stuff we are thinking about!
Kimmo: For me it is the hangover... I can write good lyrics then. You know our music is like, play sth. and sing sth., we are not thinking about it so much.
Just usually do our best parts , ist always something I feel in that moment.
How do you work in the studio to sound original on the album?
Janne: You know the first album was recordet over a hell of a long time, we were in studio for one year, it was fun to do that.
Kimmo: We produced it ourselves...
Janne: It was good for us to do that, it was some experience for us, you know you have to watch every aspect of recording by yourself and for Sleepwalkers we were in studio for like 6 or 7 weeks, we recorded it and mixed it, it was a very quick and easy album for us to do.
I don't know if we have a formular for that.
Kimmo: You have to learn bit by bit and you have to learn letting things go on and not to go crazy everytime something goes a different way you expected it. I expect the next album to be even more easier, especially the recording is going to be easier.
Janne: The experience comes by not worring about it so much. Maybe we just learned to rock.
Kimmo: You have to learn not to give a f**** about anything, just letting it come out of you and not thinking every moment: "is this good??" Make sure you feel good on what you are doing!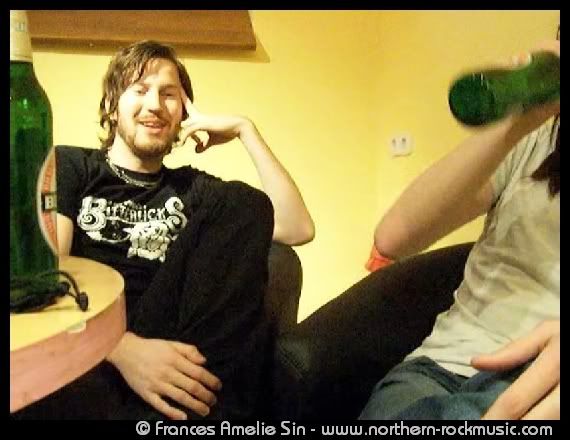 Are you working on new songs?
Janne: We have a few new songs, at the moment, but we haven't gone practicing them. I hope we will have a new album out in about one year!
Kimmo: It is all about having about 9, 10 really great songs, we just have to wait until we have those songs.
What are your future plans except of this?
Kimmo: I honestly haven't thought about it!!
What about touring other european countrys, like the festival in Italy you did, thought about that?
Janne: Yeah for sure.
Kimmo: If someone will have us, we will come, definitley.
So how do you came together with NGT for this tour?
Janne: We know them for longer, we are of course at the same record lable and you know, we know the guys from living in the same town, as well. The same bars, same studios, same friends, it is pretty naturally.
What are you doing preferred in your free time when you want to get the music- business out of your head ?
Kimmo: I like jogging, really, I like it!
Janne: I had played some football (soccer) in summer, very crappy, but it is a lot of fun.
Kimmo: Yeah they have this team with guys from Negative and Bloodpit and Uniklubi... all these guys are playing soccer.
Janne: and probably talking about the music meanwhile...
..and drinking alot of beer...
Janne: Yeah for sure!
What do you like most at your job as a musician??
Janne: The best is the freedom. Freedom of being wherever you want to be.
You don't have to kiss asses in this business, or you can do but it is not nessesary to reach the places we want to be.
Kimmo: One part of it is meeting nice people and spending time with very good friends. And then it is my personal thing, you get these insane "Highs" like the first time we finished a song in the studio, it felt like I am the f***** coolest guy alive. It goes away of course but this part of the job is very very good.
Can you imagine to do anything else??
Kimmo: Yeah for sure, sometimes you have to... well I don't know
Janne: Shoving shit g...
Kimmo: Music is not the only thing in life, we only do this because we get the chance.
Did you do something else??
Janne: I started to do university for two or three years, it really didn't worked because music became more and more important in my life, so I dropped it. So here I am, and I had been happy ever since.
Some good advice for your fans at last!
Kimmo: Have a couple of beers and remember to love your life.
Thank you guys!
Thanks to Nessy for filming this!

www.northern-rockmusic.com

Pictures of Day Eleven are in the gallery!!