Interview with Lovex (Theon, Vivian & Julian) 06.11.2007 Berlin Knaak

(c) Frances Amelie Sin™



How did you like the first show in Germany?

Theon: It was pretty fine, yesterday in Hamburg, we like it very much! The german fans are really great and more outgoing than the fans in Finland!! In Finland the people sitting at their tables and just listening to us.

Vivian: And in Germany the fans doing more party..

Are there much more Fans on the gigs than at the last tour?

Theon: Well after playing just one gig in Hamburg I can't say that cause we weren't in Hamburg last time, we will see, maybe a few more are there.

Do you receive a lot of fanmails from Germany??

Theon: Some , yes!
We get a lot of feedback from the fans at myspace.

Did you learn german a school??

Theon: I studied german for two years when I was like thirteen, fourteen years old!
Julian: I haven't
Vivian: (just nodding)
Theon: There are of course a lot of words we know but I just remember even some basic stuff in german like : ich bin, ich komme aus und so weiter...
Vivian: *****

yeah and bad words of course...

Vivian: Kaputt
Julian: Scheiße! Schwanz******
Vivian: Kartoffel!! *gg* Yeah und Schnitzel!

Anyway, how much changed your life after your album was released !!

Theon: Well I had to take a long break from my studies at University, that was the biggest change in my life, I have no time for it anymore...

Have you changed personally??

Theon: Hmmmmmmm, I dont think so, none of my friends have said that I changed or so.
Julian: We still have the same friends as before!
Vivian: Yes, we are still the same guys.
Theon: But we have less time for our friends after the band starts getting more popular!

What is your biggest dream for future?

Theon: I wanna be happy for the rest of my life.. well there is nothing particular that I wish, just to be happy .
Vivian: Bigger muscles.. he wants huge muscles..
Theon : Well yeah!
Theon: Maybe some special features...
Vivian to Theon: Penisenlargement!
Vivian: Well, a long and succsessful career with Lovex would be nice XD
Theon: To see a lot of different countries, thats a dream..
Julian: To be able to live from the music for the rest of the life!

What have you planned for the near future, next year maybe?

Theon: We are doing our second album at the moment and we finish it in February I think. It will come out in Finland before summer I guess and later in the rest of Europe together with a tour I hope!

Whats new on the next album, wich way do you chose to go on?

Theon: There are a lot of different elements on the new album, that we didn't have on the first, also heavier stuff! It's very emotional, I think! There's a lot of different stuff coming out, a lot of dieversity.

What do you think if people compare you with Tokio Hotel??

Vivian: Well we are ten years older (glares at Julian *g*)
Theon: Well there are a few similarities in our music but I think we are more hard rock.
Julian: And I think we don't have any Hip Hoppers at the guitar *rofl*

What is your attitude concerning drugs?

Vivian: We are pretty much an anti-drug band!!
Theon: Yeah right!! I know a lot of bands that takes drugs but I think it destroys the bands...!

Are you afraid that one day you will reach a point of stress where you say yes to drugs, and what are you doing instead to keep your balance?

Theon: Well, I am not afraid, I feel always so wasted after drinking alcohol, I don't like that feeling. I run to get my mind free... jogging from time to time, to pump up my huge muscles *gg*
I am also doing long walks with my dog into the forest...

Would you listen to your music if you would not be part of the band??

Vivian: I would, definitely!
Julian: (nodding)
Vivian: I listen to the new songs sometimes, the old ones are a bit OLD ...
Julian: Yeah , we heard them too often..

How long do you need for your stage styling??

Vivian: I need about two minutes.
Theon: Well it depends, sometimes fifteen, sometimes thirty minutes..

Was your style planned as a band – style or have you all been like that before??

Theon: No it wasn't planned, we style like we want!!

Do you have any lucky charms that are always with you??

Theon: I used to have some but I get rid of those..
Vivian: Not actually
Julian: No!

One last message to all your fans:

Theon: Be patient, the new album is on it's way and it's gonna be better than the first one ;)
Better than anything!!
Julian: Buy it!! Don't load for free!!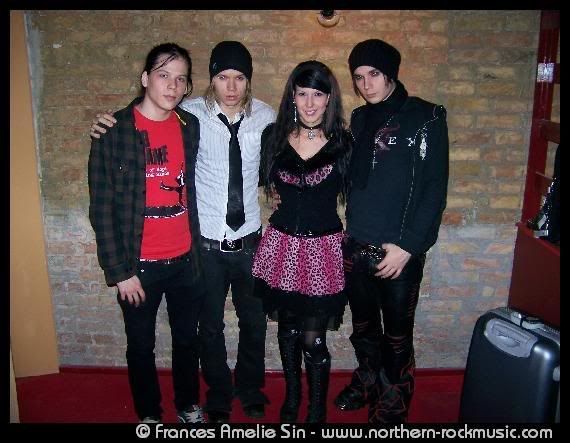 Thanks Lovex & BMG

www.northern-rockmusic.com

Lot's of pictures of the gig and alsoof the support Manzana are in the gallery!