Reports- Previews- Tourpresentations


*****************************************************************
BECK's presents:
M'era Luna Festival 08/09. 08 2009 Hildesheim /Airport Drispenstedt
www.meraluna.de
When it comes to the M'era Luna there's always the prospect to have better and bigger bands from year to year and a high level to go on with . But this time they really are beyond expectations! THE PRODIGY and NIGHTWISH as Headliner is a cracker!!
But thats not all: APOCALYPTICA * SUBWAY TO SALLY * HEPPNER * TIAMAT * VELJANOV * BLUTENGEL *
THE CRÜXSHADOWS * OOMPH! * THE BIRTHDAY MASSACRE * DIE APOKALYPTISCHEN REITER * DEATHSTARS * DIE FORM * DE/VISION (ELECTRONIC SET) * ZERAPHINE * EMILIE AUTUMN

(cancelled)

* LETZTE INSTANZ * UNTOTEN * L'AME IMMORTELLE * IAMX * SCHELMISH * ZEROMANCER * NACHTMAHR * (:S:I:T:D:) * GRENDEL * STAR INDUSTRY * SPETSNAZ * KRYPTERIA * JESUS ON EXTASY * LOLA ANGST * ASHBURY HEIGHTS * WHISPERS IN THE SHADOW * FROZEN PLASMA * TYSKE LUDDER * SCREAM SILENCE * NO MORE * MINA HARKER * HEIMATAERDE *
This line up seems like bringing up the creme de la creme of GOTH / ROCK/ METAL/ EBM and INDUSTRIAL.
But it's not a miracle that these Bands wanna play at M'era Luna, this festival aquired renown not just through the hugh size ( the tent--place is definitley the biggest I ever got lost on) but also through the peaceful ambience that shows how Tolerance can be lived. People often think that gothic is just one style and one kind of music but in fact it is
as multi-faceted as you can imagine. And different in itself of course. Actually bands like Nightwish and Apocalyptica will bring a lot of non-gothic fans to that festival what makes it even more colourful... yes you heard right, gothic can be very colourful. Black is the ground of it but it spread to every neon colour that exists. Pink and violet may be the favourites but the theme is : DO AS YOU WANT!!
We will look forward to another great and relaxed weekend with wonderful music, nice people and strange outfits (how do they dress up like that in a tent- thats a real artistry!) The weather may be hopefully well-disposed this year but even rain never stopped the good mood around.
As all the years before you can go shopping on the festival area in one of the many goth/dark shops and there will be a fashion show for the first time were Underground-lables show their latest collection!
Also the medieval part were borne in mind. Furthermore, Kramer, Zunft and Kurtzweyl will once again provide a medieval atmosphere after the success of last year: minstrels, jugglers, craftsmen and fire-breathers display their skills and invite festival-goers on a journey into times gone by.

come and join...





M'era Luna information:

The M'ERA LUNA Festival is an institution in the Darkwave and Gothic scene, attracting up to 25,000 fans to Hildesheim from across Europe every year. On the 8th and 9th of August 2009, the Hildesheim-Drispenstedt Airport will once again be converted into a huge catwalk for extravagant make-up and outfits of velvet and silk, latex and leather – both on and in front of the stage. All information about the bands and festival can be found at www.meraluna.de

Two-day tickets plus camping cost 74 € all fees inclusive and a 5 € garbage deposit which can be reclaimed upon return of garbage bags and chip. Tickets for the M'ERA LUNA Festival can be bought at all regular ticket outlets, at www.meraluna.de, www.eventim.de and from the hotline 0 180 5-853 653 (14 cents/min / price may vary from mobile phones)

We are spreading news and changes via myspace... bulletins and blogs... please join us there :

Northern-Rockmusic Myspace
*****************************************************************
Undercover presents: Braunschweig Rockt 13.06.2009 Eintracht Stadion Braunschweig!!






Headliner

:

Die Toten Hosen

, with 20 years on stage the oldest and most succsessfiul german Punkband. Co-starring:

Silbermond,

a young but not even less succsessful female fronted band that always shows presence in the german charts over the last years.
These both Top-bands will be supported by

Madsen, Ohrboten

and

Bosse

.



Day

: Saturday, 13.06.2009


Place

: Braunschweig


Venue

: Eintracht Stadion


Doors Open

: 14:00


Showtime

: 16:00

For information and tickets visit: www.undercover-net.de or www.bsrockt.de


Die Toten Hosen is a German punk band from Düsseldorf. They have enjoyed decades-long mass appeal in Germany.
The band's name literally means "The Dead Pants" (i.e. trousers) in English, although the phrase "tote Hose" is a German expression meaning "impotent", or "nothing going on". A more idiomatic translation of the band's name might therefore be The Deadbeats.
The members of Die Toten Hosen are Campino (Andreas Frege), Kuddel (Andreas von Holst), Vom (Stephen 'Vom' Ritchie), Andi (Andreas Meurer) and Breiti (Michael Breitkopf). Although most of the members are German, drummer Vom is actually from England and replaced Wölli as the drummer in 1999; Wölli's untimely departure from the band was due to injuries caused by a car accident. Wölli himself had replaced Trini in 1985, and is still an honorary member of the band; Trini became the band's manager when Wölli joined.
The band has existed for over 20 years, and their songs' focus gradually shifted from funny and nonsensical to serious; the songs from their first LP were mostly about having fun, but by the end of the 1980s they were focusing more on political and social issues such as racism.
Part of the folklore surrounding the band is the story that in their early days they played for free at private birthday parties or similar events. However, this was only under the condition that the host provided an unlimited beer supply and paid for all damages caused by the band.
The debut single "Wir sind bereit" ("We are ready") was released in 1982, and was followed by their first album, Opel-Gang, the next year. In 1988, Die Toten Hosen released the LP Ein kleines bisschen Horrorschau ("A little bit of horrorshow" (Russian & Nadsat for "ok") referring to the phrase in "A Clockwork Orange"), which featured the song "Hier kommt Alex" (referring to the movie A Clockwork Orange based on the book by Anthony Burgess); in 1988, Bernd Schadewald produced a German theater version of the book, in which the band performed as actors and musicians. "Hier kommt Alex" (Here comes Alex) was later redone for the unplugged show in 2005 with the opening piano of Beethoven's Moonlight Sonata. Their 1000th concert was on 28 June 1997, in the Düsseldorfer Rheinstadium, and was attended by more than 60,000 fans. A Dutch girl, Rieke Lax, died in the crowd; later the band produced the song "Alles ist eins" ("Everything is one") in memoriam for her.
Their first tour after this event was as part of the 1998 Warped Tour to New Zealand, Australia, Japan and Hawaii, and included hospital visits for Campino after two of the nine Australian dates (Byron Bay and Geelong).
Die Toten Hosen have collaborated with numerous other musicians (like Bad Religion, AC/DC, U2, Rolling Stones); they are also one of the few German punk bands popular outside of Germany (esp. in South America, Australia, Eastern Europe) other notable bands being Die Ärzte and WIZO.
As longtime fans of their local football team Fortuna Düsseldorf they sponsored the club from 2001 to 2003. They also published a song named "Bayern" in 2000, referring to the famous football club in Germany. Roughly translated, the text reads "many things can happen, many things can occur, I just know one thing for sure, I'd never join FC Bayern Munich".
In August, 2006, Campino (Andreas Frege) starred as Mack the Knife in a new version of "The Threepenny Opera" staged at Berlin's Admiralspalast, a short distance down Friedrichstrasse from where the play received its premier in 1928. Staged by actor Klaus Maria Brandauer, the much-awaited production opened to mixed reviews, with cheers for German rock star Campino, but scattered boos for Brandauer's "conventional" staging. (source : http://en.wikipedia.org/wiki/Die_Toten_Hosen)
*****************************************************************
Since a big baptism by fire in summer 2005, Amphi has become one of the biggest festivals in Northrhein-Westphalia and got a huge number of fans that is rising from year to year.
Just last year over 12.000 people from the whole federal territory and the international foreign countries visited the Tanzbrunnen in Cologne.
This year Amphi is inviting musos and supporter of the black scene from 18.
–
19.07.2009 to the dark dance at the Rhein riverside. Fancy Outfits and a colourful black together is the signature feature of the fans as a peaceful and apolitical attitude.
After the marvellous achievement in 2008, where the festival was sold out the first time at the advance sale, follows now in 2009 the next beat of drums, also because it
'
s Amphis 5 years anniversary.
34 top-class bands, classified in EBM/Electro, Synthi-Pop, Gothic-Metal and Medieval-Rock are burning to rock our stages. Brutal Industrials will collide with hefty guitars, deep passion will be mixed with whole poetry. Amphi is so successful in remaining faithful but at the same time in reinventing oneself.
Program:
FIELDS OF THE NEPHILIM and FRONT 242 are two genuine legends and the headliners of the festival, who couldn
'
t be more diverse. FRONT 242 is the engine of the electro-scene, they return from 2007 back to the Tanzbrunnen, while the british gothic-icons Fields Of The Nephilim will cast a dark spell over the audience. Both bands are absolute grandmaster in their case, attribute: Non plus ultra!

Impressive filled, also the rest of the program is convincing with it
'
s multifarious taste and a variety of surprises, that don
'
t stop before tangible sensations:
Only recent, Denmark
'
s elctro-veteran Claus Larsen, known as
LEÆTHER STRIP,
celebrated his comeback on stages and chose Amphi as the only open-air-festival in Europe to play his first Germany-gig since 1992.
Not that long KMFDM let their fans wait. But the last Europe-Tour of the Industrial-rockers was also four years ago. So, it's high time to grasp at this opportunity and see KMFDM live at Amphi.
Also the Slovene artists-collective LAIBACH and the german electro-commando FEINDFLUG promise some extraordinary shows.
Without a doubt, the Amphi Festival makes hearts of electro-fans leap for joy.
Wheter it's the volcano-activity of HOCICO, Swedish coolness of COVENANT, naughty stuff birth by AGONOIZE, old-school-sounds á la ABSOLUTE BODY CONTROL, the high-voltage aggregate XOTOX, or Combichrist-mastermind Andy LaPlegua alias PANZER AG and SCANDY, variety is provided.
Abreast that there is a multi-variant choice of on fiery rockshows: Starting with the elctro-dreamteam EISBRECHER, UNHEILIG and THE BIRTHDAY MASSACRE, this year the Dutch THE GATHERING will play their long-awaited show with their new singer Silje Wergeland . Together with the symphonic-metal-guys DELAIN, the Industrial-Glam-Rocker JESUS ON EXTASY, the Horrorpunks THE OTHER from Cologne, as MANTUS who are playing the first time on a festival stage, the audience will get their money worth as the can rock their hearts out.
For the folk- and medieval entertainment, great jokers SALTATIO MORTIS and the clarinets-rebels of COPPELIUS from Berlin are responsible. Who likes it a bit calmer will find QNTAL, OMNIA and ROSA CRUX as three musical jewels, who will all delight with their atmospheric shows.
While doyen OSWALD HENKE will play a best-of-program from Goethes Erben and his projects Artwork and Erblast, we'll wait for AUTO-AUTO and JÄGER 90 as two exciting newcomers to introduce themselves to the audience.
At long last also at this year there is going to be a great final concert. CAMOUFLAGE got the honorable task to lead Amphi to a moody finish. They celebrate true to the motto "The Pleasure Remains" with synthi-pop of the highest standards, loaded with dreamy melodies and immortal hymns. DIORAMA, MARSHEAUX and SOLAR FAKE complete the prgram of Amphi Festival 2009.
New Indoor-stage in the Rheinparkhalle 
Condingent on steadily rising visitor figures and a very attractive program, Amphi presents itself in a new light. To fulfil the onrush and to guarantee a fluently drain on the Inddor-stage, the festival area extended to the Rheinparkhalle.
Straight next to the Tanzbrunnen and reachable with a direct access, the hall supported Amphi 2008 with additional sanitary facilities. From now on the Rheinparkhalle joins up with the festival with it
'
s generous space and will detach the theatre at the Tanzbrunnen as second Live-stage. Advantage for all visitors: More space for party = more Amphi!!
Official Amphi Festival Campsite:
Also afresh is the official Amphi Festival Campsite. In cooperation with
"S.O.M.A. –
Summer of Music Arts Festival", the opportunity was built to camp in the beautiful Jugednpark in Cologne in a Walking Distance to the Tanzbrunnen.
The Festivalcamp is opened from Friday 17.07. from 16:00 til Monday 20.07. from 10:00. It offers next to the campsite itself a service-building inclusive arranged toilets, particular shower-cabins, and a washing facility. Above that there is the opportunity to get provisions with a rich offer on food and refreshments.
You can get your tickets to the official Amphi Festival Campsite at the Amphi-Ticketshop for 18 € plus advanced sale costs.
Take note: Campingtickets are guilty for one person for the official festival campsite in the Jugendpark Cologne, Sachsenbergstraße, 51063 Köln. Because of entity- and environmental reasons is it forbidden to drive on the area with a craft (inclusive campers). Information about the parkingspace you can find here!
Rahmenprogramm:
As in usual Amphi is working with creative and countless attattractions besides the live-stages. At this Amphi is foregrounding the theatre this year. After shifting the indoor program into the Rheinhalle, the theatre offers Chill Out Areas and a forum for DVD-presentations and cinema-shows. Moreover on both evenings here will be the Aftershowparties with famous DJ's of the german and international scene.
Naturally there will be a few favoured signing sessions. The whole sessions are not planned yet but a few great musicians are announced. When all dates are fixed, you can read them on the official page.
A unique jewel of Amphi is the Beachclub km 689. With a beach of over 3500m² and the fabulous historic city panorama, this place exudes pure holiday mood and proves that Gothics cut a fine figure in the sun. As a haven of recreation, the Beachclub is the most extraordinary attraction in the whole black Open Air scene. Into the south and back? No problem for Amphi…
There will also be a GothiFamily.net stall with special children- and familyprogram and a Dunkel-Volk information-center, who will besides foreign language help and general information convey rickshaw-drives.
On culinary side, Amphi backs on established products. Besides alcoholic and non-alcoholic drinks, including Met and Cocktails, a rich variety of international specialities will be provided.
The Tanzbrunnen:
Another plus of the Amphi Festival is the Tanzbrunnen as ever. Formed up as an iconic towering fountain in the centre of everything. The whole festival refers it
'
s fascination for clarity and functional versatility. Whether it
'
s the generous sheltered main stage, an excellent arranged monger-mile, numerous seats and so many things more, the audience gets the optimal scope. At the same time, the relaxing familiar atmosphere survives despites the striking capacity of the area. Even when it
'
s rainy weather, the Tanzbrunnen is a real all-rounder, thanks to paved paths.
Tickets:
The favoured original-tickets, Amphi Festival Gift Packages and Campingtickets are solely available at the Amphi Shop at http://www.amphi-festival.de. You can also get an online ticket at www.dark-ticket.de

,
per telephone at 01805- 568200 and of course at all ticket-sales.
Amphi Festival Facts
V. AMPHI Festival - The ORKUS Open Air 2009
–
Facts:
18. - 19. Juli 2009

Venue:
Cologne – Tanzbrunnen
Program:
FIELDS OF THE NEPHILIM + FRONT 242 + UNHEILIG + COVENANT + LEÆTHER STRIP + LAIBACH + FEINDFLUG + HOCICO (einziges Festivalkonzert in Deutschland 2009) + CAMOUFLAGE ("The Pleasure Remains"
Best-Of Show at the end) + EISBRECHER + AGONOIZE + KMFDM + THE BIRTHDAY MASSACRE + THE GATHERING + SALTATIO MORTIS + HENKE (Oswald Henke plaing Songs from Goethes Erben, Artwork und Erblast) + ABSOLUTE BODY CONTROL + QNTAL + DIORAMA + DELAIN + OMNIA + COPPELIUS + JESUS ON EXTASY + MARSHEAUX + SCANDY + SOLAR FAKE + MANTUS + THE OTHER + PANZER AG + JÄGER 90 + ROSA CRVX + XOTOX + AUTO-AUTO + NEWCOMER Special Program & Aftershowparties!!!
Warm-Up:
Date        Club
08.05.2009   Dresden, Pier 15,

www.depechemode-aftershowparty.de
09.05.2009   Leipzig, Alte Hauptpost,
www.depechemode-aftershowparty.de
09.05.2009   Düren, "Dark Movements" Endart Kulturfabrik,
www.myspace.com/darkmovementsmusic
09.05.2009   Homburg, Sonic,
www.tanzritual.org
20.05.2009   Leverkusen, Shadow,
www.shadow-lev.de
20.05.2009   Münster, Sputnikhalle
www.monasteria.net
22.05.2009   Kassel, Panoptikum,
www.myspace.com/Panoptikumindark
29.05.2009   UK – London, Club AntiChrist,
www.myspace.com/pfiuk
30.05.2009   Duisburg, Kulturkeller,

www.kultkeller.com
30.05.2009   GR –Thessaloniki, Eightball Club,
www.eightballclub.gr
05.06.2009   Marburg, Nocte Obscura Kult,
www.nocteobscura.de
06.06.2009   Düsseldorf , Stahlwerk,
www.gothic-industrial-night.de/
06.06.2009   PL –Poznan, Klub U Bazyla,
www.myspace.com/industriaexmachina
12.06.2009   Kaiserslautern, Flash,
www.flash-kl.de
– Party verlegt aus dem Club Nirvana!
12.06.2009   Braunschweig, Meier Music Hall,
www.meier-music-hall.de
18.06.2009   Duisburg , Pulp,
www.schwarzhalt.de
20.06.2009   Frankfurt a. M., "Nacht der Maschinen" Batschkapp,
www.electronicdanceart.de
20.06.2009   Siegen, Musikclub Vortex,

http://www.myspace.com/unknownpleasuressiegen
26.06.2009   GR- Athen, Second Skin Club,
www.secondskinclub.gr
27.06.2009   Ingolstadt, Buddha Eventlounge,
www.nachtwerk-online.de
04.07.2009   Köln, DarkClub Cologne,
www.darkclubcologne.de
10.07.2009   Oberhausen, Saint,
www.darkcelebrationparty.com
11.07.2009   Bonn, Der Goldene Engel,

www.der-goldene-engel.de
16.07.2009   Oberhausen, Eisenlager,
www.eisenlager.de
17.07.2009   Köln, Alter Wartesaal,
www.memphis-team.com
*****************************************************************

White Flame + Deep Insight 2009 on Tour


The countdown started. After a few shows in Finland the two Finnish bands will be back on german stages .
One of them is the 2001 formed band White Flame. After a very successful supporting tour for Lovex in October 2008 the band will no be back as one of the two headliners. In the package, songs from their in 2007 released album "Yesterday's News" and the latest album "Tour bus diaries" out since 27th of march 2009.
Everyone who saw them last year, will know, this band kick asses and rock the crowd in front of the stage.
The second headliner will be Deep Insight. After a big tour as support for The Rasmus in 2005 and some shows with Blindside in 2007 it became a little bit quiet around the 4 guys from Helsinki, in Germany.
Now, they are back with songs from the 4 already released albums and hopefully from the new Album "Sucker for love" which will be released at the 22nd of April.
You really should not miss these great bands. So check the dates and get your ticket for the german shows on www.kartenhaus.de
23.04.09 - K17, Berlin, GERMANY
24.04.09 - Logo, Hamburg, GERMANY
26.04.09 - Durer Kurt, Budapest, HUNGARY
27.04.09 - Chelsea, Vienna, AUSTRIA
30.04.09 - Sounddock14, Zurich; SWITZERLAND
01.05.09 - Etage at St. Gervais, Biel, SWITZERLAND
02.05.09 - Jugendzentrum, Crailsheim, GERMANY
*****************************************************************
Press release Tampere, 16. 3.2009
MANZANA TO TOUR EUROPE WITH FOR SELENA AND SIN AND UNSHINE
Finnish rock-metal band Manzana has released the dates for European tour on April and May 2009. The tour will start on April 22nd in Hamburg, Germany, and will stop in 7 countries. The tour is called "Finnish Female Fronted Rock-Metal Tour 2009", as Manzana will be on the road with two other Finnish female fronted metal bands, For Selena And Sin and Unshine.
Manzana released their second album "Babies Of Revolution" in Finland on September 2008, and it went on chart number 28. Manzana's debut "Nothing As Whole As A Broken Heart" was released in Finland on December 2007, and it went on album chart 24th, single "Falling To Pieces" number 2 the highest. The debut was released by Playground International in 24 countries, and on 2007 Manzana toured all Finland with bands like Apulanta, Teräsbetoni and Entwine, and Germany and Switzerland with Lovex, and visited several TV shows including MTV..s Headbangers Ball. On 2008 Manzana also toured some Baltic countries.
For Selena And Sin, a gothic pop-metal band, have released their debut "Overdose On You" by Dutch Mascot Records on 2007, and it was selected as an album of the month on Finnish metal magazine Inferno. Positive feedback from all over Europe made the band to tour more passionately than ever. Band made a lot of gigs in Europe and Russia. Touring included sold-out finnish tour with Volbeat.
Selena performed at The Finnish Metal Expo in Helsinki this year, and their second album is ready to be released by Mascot Records, later on 2009.
Unshine, a symphonic druid metal band, has also released two albums, "Earth Magick" on 2005, and "The Enigma Of Immortals" on 2008. The both albums have been released in Europe and also in the U.S. and in Russia. After the release of TEOI, band gained official chart positions in Finland and the album songs received airplay even in Bruce Dickinson's BBC Friday Rock Show. Previously band has performed e.g. in Bilborock (European-wide pop-contest in Bilbao, Spain) and in Finnish Tuska-festival.
Reservations for interviews and more info please contact :
MANZANA:
pertti@
dynamicartsrecords.com
henkka@trc-records.com
tel.
+ 358 40 5444878 Henri Virsell
www.myspace.com/manzanaband
www.manzana.fi

FOR SELENA AND SIN:
mail@mascotrecords.com
forselena@gmail.com
tel.
+358 44 2919513 Pasi Kolari
www.myspace.com/forselenaandsin
www.forselena.net

UNSHINE:
band@unshine.com
tel.
+358 40 7386499 Harri Hautala
www.myspace.com/unshine
www.unshine.com



TOURDATES :



22.
April Hamburg/ Headbangers Ballroom Germany
23.
April Braunschweig/ Egal Germany
24.
April Uster/ Rock City Switzerland
25.
April Lübbenau/ Kulturhof Lübbenau Germany
26.
April Frankfurt (Oder)/ Gewölbe Germany
27.
April Berlin/ Knaack Germany
28.
April Prague/ Rock Club Bunkr Czech Republic
29.
April Warsova/ Progresja Poland
30.
April Klaipeda/ Bliuzbaris Lithuania
01.
May Pärnu/ Mai Keskuse Rockiklubi Estonia

02. May Tampere/ Sputnik Finland



German:
www.blackswan-promotions.de (Manzana + For Selena And Sin german/ english information)
www.myspace.com/manzanagermany

(Manzana Germany)
www.myspace.com/forselenaandsingermany (For Selena And Sin Germany)





*****************************************************************
Nightwish "Deja vu" Tour 2009
(c) www.northern-rockmusic.com
Frances Amelie Sin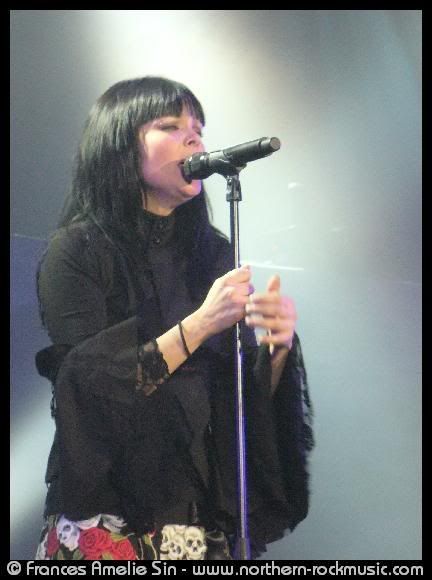 Yes you heard right, it's time for Nightwish again! Here we go: Nightwish obviously concentrate on conquer the USA, they are touring there permanently as it feels, but there are a few european dates in march to enter. It's about a year ago that Nightwish were in Germany and introduced us to Anette Olzon. It seemed to be a good thing for them, they were refreshed but the rumors about old problems in a new look started soon and still grow. I wonder how long Anette will stay with the band. Not that I don't like her on stage, she's kinda cute and acts much cooler than Tarja ever did but she simply cannot sing live as good as in the studio! I cannot belive that this is not a problem for a band that was blessed with a perfect singer over years! We will see what they will afford us this time. The last show I saw in 2008 was very good, there were old and new songs in a balance to each other and it was stirring how happy and solved the band was. They played just songs that fits to Anette except for the singles that needed to be played cause the audience longed for it. I guess Anette did it okay, and if whatever went wrong it was compensated by her interacting with the fans and the freshness that spread from her on stage! Hopefully they still have this power to give the fans a big show, but who really doubt?? I have never seen a really bad show of Nightwish, did you?




This time they are joined by two Supportbands, one of them are old aquaintances to us: Pain from Sweden. They supported Nightwish before, in 2008 on the german tour and got lots of applause.
The other one is Indica from Finland. A very special girlband, more Pop-rock than metal but of good quality. Indica singer Jonsuu, a nature-red-haired beauty with a fancy style and a strident voice, worked with Nightwish before, maybe we have the chance to get a live version of their finnish song "Erämaan viimeinen", that would please me much by the way, I hate to be the only one singing while Nightwish play the instrumental version. Hei Saksaa- learn some finnish please!!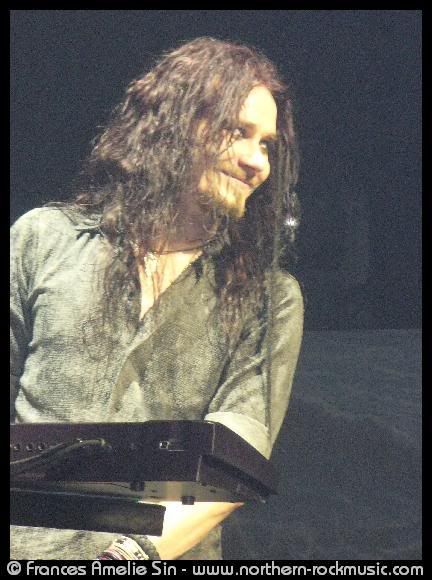 I think Nightwish need to do a bit more over here to keep their fans happy that are not so involved in the finnish metal-scene. Yes, they got a lot of attention over the last years and they have fans that never noticed before thet they like metal, but specially these ones are the first to go if a band wasn't heard from again for longer time. So this is another facility and I am sure it will be a big event as all times before.




If you wanna join, here's the chance:



14.03.09 - Forest National, Brussels, BELGIUM
15.03.09 - Ahoy Arena, Rotterdam, NETHERLANDS
17.03.09 - Palladium, Cologne, GERMANY
18.03.09 - Emslandhallen, Lingen, GERMANY
20.03.09 - Europahalle, Karlsruhe, GERMANY
21.03.09 - Messehalle.
Erfurt, GERMANY
23.03.09- Zenith. Paris, FRANCE -
sold out
24.03.09 - Zenith, Paris, FRANCE
26.03.09 - Zenith, Munich, Germany
28.03.09 - St. Jakobshalle, Basel, SWITZERLAND
30.03.09 - Palabam, Mantova, ITALY
31.03.09 - Palasport, Prodenone, ITALY
02.04.09 - Cibona Hall, Zagreb, CROATIA
04.04.09 - Fonix Hall, Debrecen, HUNGARY



www.nightwish.com
www.contrapromotion.com
www.nuclearblast.de


**************************************************************************************
Private Line 2008 Germany


It took some time, stunningly long time to get the pirates to Germany. Except for one gig in 2006 on a finnish festival in Berlin, this ist their first stroke in Germany. Strangely this tour is just in the middle of nowhere of the band's work. The last album " Evel Knievel Factor" , their second full lenghth album, is quite old with more than a year since it's release date! But we are excited what the finnish guys will show their fans here. Some pirate action maybe ! Actually over the course of the Finland boom in the last 5 years they have a lot of fans in Germany. Their music is something between hardrock and glam and fits into the dark subcultures as good as it is mainstreem enough to be played by the radio stations or MusicTV channels.
It's interesting to note that Rakel Liekki, a famous finnish porn star and celebrity is close connected to the band and also was video- featured by the song "Broken Promised Land" (2006). An ambitious bonding!
Privat Line will be touring without guitarist Ilari who will be replaced in that time by J-V from Machine Man.
Private Line will be supported by Sister, a very young band from Sweden that toured before with The Pleasures from Hamburg and Black Rain from France in Germany in spring this year! They are a f*** glam band with great hair-metal style of the eighties! Maybe they need to learn a lot of social- relation things but the music is great and theres a lot of potencial. Not to forget: their most used word on stage is fuckers!! What else!!
There will be also local supports in every town and well there are The Pleasures in Hamburg and Big Boy in Cologne and other great bands, so that this will be always a great trio and an event you should better not miss!!
Prozac Nation Tour 2008
04.09.2008 - Cologne, Germany
05.09.2008 - Bochum, Germany
06.09.2008 - Lichtenfels, Germany
07.09.2008 - Hamburg, Germany
08.09.2008 - Berlin, Germany
10.09.2008 - Frankfurt, Germany
11.09.2008 - Saarbrücken, Germany
12.09.2008 - Uster, CH
13.09.2008 - Munich, Germany
14.09.2008 - Vienna, Austria
16.09.2008 - Stuttgart, Germany


www.privatelineweb.com

**************************************************************************************

Lovex 2008 Germany

2006 was the year, the six finnish Newcomer firstly put feet on German ground. Since then all over the republic, girls are screaming their name: Lovex. Now, after they paid us a short visit last year, they're coming back to show, that they still know how to rock the crowd.
This time, the band around singer Theon McInsane, will introduce their new songs from their latest album "Pretend Or Surrender" to the German audience.
With songs like the in Germany, in May 2008 released single "Take A Shot" or "Turn" the song from their latest video release, Lovex certainly won't have any problem to take over the crowd.
While the six guys were supported from Manzana list time, this time they will get backup from the in 2001 formed, finnish band White Flame.
White Flame is a Pop/Rock band from Tampere/Finland. This tour with Lovex will be the perfect chance to show their live quality to the German audience and will bring the songs from their in 2007 releasde album "Yesterday's News" closer.
So whoever became interested now, check out the dates and get your ticket at:
www.eventim.de
www.contrapromotion.de
Lovex On Tour in Germany [with White Flame] prestented by Rockoon! and Orkus:
11.10. Dresden-Beatpol
12.10. Berlin- Magnet
13.10. Hamburg- Logo
14.10. Köln- Underground
15.10. Ludwigsburg- Rockfabrik
16.10. München- Backstage Club
**************************************************************************************
M'era Luna Festival: Flugplatz Hildesheim 09.-10.08.2008
In august when everyone will hang out in bikinis at the beaches and lakes there is one place different. Hildesheim, a small town in the middle of Germany, overfloaded of black clothed music-fans from all over the world. But black is not just black, you can see any variations of gothic, metal, medieval, EBM, batcave, glamrock, punk and visual kei styles, that you can imagine. The M'era luna festival is a fix date in every dark hearded peoples calender and it is always a big fun and a warm atmosphere. Besides the big prominent line up there are aways playing newcomers that can give a proof of their live qualities. Next to the main stage there is a second stage in the hangar, around the festival place there are fields for camping and parking, maybe the only festival that has enough place for everyone and everything. On the festival area there are numberous stands with clothes, jewellery, mechandise and more. The saturday nights will end with a big party in the hangar and of course the same procedure as every year: The search for Helga.
Some good advice: If you really wanna find some sleep a night, don't put your tent close to swedish tents. You can detect them by the swedish flags over the tents. ;)
Come and discover your dark side and enjoy an outstanding line up this year!!
See you in Hildesheim!
Quelle: MERA LUNA Festival

Latest Festival Line up:


FIELDS OF THE NEPHILIM | FRONT 242 | VNV NATION | NEW MODEL ARMY | APOPTYGMA BERZERK | ASP |
PARADISE LOST | DAF | HOCICO | UNHEILIG | MOONSPELL | SAMAEL | MESH | TANZWUT | COMBICHRIST | RED LORRY YELLOW LORRY | SALTATIO MORTIS |
THE VISION BLEAK | CHRISTIAN DEATH | EPICA | EISBRECHER | ELEGANT MACHINERY | BLITZKID | THE OTHER | AGONOIZE | FRANK THE BAPTIST | CINEMA STRANGE |
THE LEGENDARY PINK DOTS | PAINBASTARD | ORDO ROSARIUS EQUILIBRIO | RABENSCHREY | END OF GREEN | ELIS | DELAIN | IRFAN |
u.v.a


more information at: www.meraluna.de


**************************************************************************************
Tales from a secret Forest - John Kelly & Maite Itoiz
03.05.2008 Braunschweig

12 experienced musicians on stage, two hours of bombastic show full of fantasy and reality, symphonic music that reminds of legendary film soundtracks mixed with pop, rock, electronic, Spanish, middle age, lyric and classic sounds. Listen to the magic and beautiful sound of the Celtic steel string harp, the dreamy and powerful sound of the whistles together with the full expression of the cello notes ...
Feel the harmonies of the voices, the energetic choreographies of dancers and soloists. Fantasy tales and real stories, love and sorrow, life and war, thoughts and feelings, light and shadows, strength and power. Let yourself be part of the inner story of the show, through the eyes of a blue fairy boy. Let´s open the book of tales this solstice´s night. This secret forest is opening its gates to you. You´ve been touched by its invisible hand.
But what does the legend tell about this story? What happened in the fairies world that night? What is the book of Tales from the Secret Forest?
Fairy Boy
Saint John´s night.
The moon was shining almost full through the misty night and a soft breeze blew through the trees. Only a few night animals were breaking the silence in the forest.
High up on a branch, half asleep, the Fairy Boy stirred slowly. He felt something strange, something was different around, but he would never expect what was going to happen to him that night...
He perked up his ears, looked around but could not see anything different. Slowly, he slid down the tree thinking, "Maybe it is the sudden silence, maybe it is the wind that stopped suddenly." He remained quiet for a while. Still he could feel something strange in the air. It was like the things around where different somehow. "What a stupid thing, it must be the south breeze", he thought and started dancing with the leaves, like he always used to.
Suddenly his eyes were drawn to a strange light on the forest floor. "What is that?" the Fairy Boy thought. There, in the midst of shadows and leaves, a big book was glowing in the darkness. A light was going out from that book like he had never seen before. The Fairy Boy got a little frightened, his heart started beating - but at the same time, he felt curious. He was absolutely sure, that book was not there before. He decided to approach it with caution. He held out his hand, was in doubt for some seconds but at least, he touched the book carefully. What was that? Immediately, he drew back his hand, lost balance and tumbled backwards: The light shone brighter - it was like the book could feel the touch!
The Fairy Boy couldn´t believe what was going on. The way this rare book appeared, the silence around him, the light… "But ... this book ... this book ..." The Fairy Boy could not sort his thoughts. Legend had spoken to the fairies of a magic book that would unlock the images, emotions, and feelings of an unknown parallel world. A world, where humans lived. A world full of music. "Could this be 'the book' of which many had spoken?" Although there was no sound, the book seemed to be calling him. He had to look at it again. Reassured by the warm glow, he approached slowly and this time he managed to touch the book even more carefully. Finally, he opened it. Shivers of delight replaced those of fright as the Fairy Boy suddenly was sure of what he held in his hands: That book was the legendary magic book of the "Tales From The Secret Forest"!
The fact he had that book in front of him meant that he was going beyond the limits of his world. He was in the "real" world. He trembled. He felt himself privileged and enlightened as he pronounced the firsts spells written in those magic pages. He forgot everything around him. Though he could still hear the echoes of the fairies´ solstice song coming from the depths of the forest, he could feel he was already crossing the limits of his world. Suddenly, the Fairy Boy was surrounded by music and images so real that the spell of the authors descended upon him ...
source:http://www.johnkelly-maiteitoiz.com/
h
28.06.2008
Linz, Austria


John and Maite will perform a complete "Secret Forest" concert with their band in Linz! More info coming soon.





03.05.2008
Braunschweig, Germany - KULTUR-UND KOMMUNIKATIONSZENTRUM BRUNSVIGA


Secret Forest complete concert (Spring Tour 2008) Tickets already available here: JohnMaiteOffice@aol.com Ticket hotline Germany: 0151 20038300 Ticket hotline international: + (49) 151 20038300





02.05.2008
Bremen, Germany - Bürgerhaus Mahndorf


Secret Forest complete concert (Spring Tour 2008) Tickets already available here: JohnMaiteOffice@aol.com Ticket hotline Germany: 0151 20038300 Ticket hotline international: + (49) 151 20038300




**************************************************************************************
IV Amphi-Festival- The ORKUS Open Air

19.-20.07 2008 / Tanzbrunnen Köln
Oomph!, Welle:Erdball, Zeraphine, L'ame Immortelle...

Ready for the fourth Amphi Festival in Cologne/Germany? Ready for some kick-ass music brought to you by great bands?
This year the Festival will be bigger and better: 33 bands, longer live-programme, free aftershowparties and much more to experience.
To guarantee a big party, the hosts have prepared some special goodies for every music-friend.
In such way the German band OOMPH! will use the chance to play a best of show and present some new live material as well as DEINE LAKAIEN will play there only Open Air Festival in 2008. After their latest tour at the beggining of this year, L'AME IMMORTELLE will also perform this summer and will also give everything to hit the crowd.
Furthermore the audience can be excited about the ORKUS-NEWCOMER who isn't announced, yet.
Being planned at the weekend Amphi Festival is the best choice for spending some nice summer time together with good music and great live performances. Definately a must-do for every Rock, Gothic, Electro or Medieval fan.
See you there,
Lithium Kitten/ northern-rockmusic.com
Amphi Festival 2008
will take place in Cologne, like it did first in 2006.
For
further information
check out the official sites:
www.amhpi-festival.de
www.myspace.com/amphifestival
Tickets
at the well-known places or by ordering:
01805/997060
There are some special offers for the tickets as well, for those who are fast enough.
Tickets can also be buyed locally.
The event will be hosted by Honey (Welle:Erdball) and Jens (Funker Vogt).
Schedule:
Signing Sessions:
19. Juli 2008
| | | | |
| --- | --- | --- | --- |
| ASHBURY HEIGHTS | 13:00 | - | 13:50 |
| TACTICAL SEKT | 14:00 | - | 14:50 |
| NACHTMAHR | 15:00 | - | 15:50 |
| OOMPH! | 16:00 | - | 16:50 |
| GRENDEL | 17:00 | - | 17:50 |
| WELLE:ERDBALL | 18:00 | - | 18:50 |
| ZERAPHINE | 19:00 | - | 19:50 |
| ZEROMANCER | 20:00 | - | 20:50 |
| HAUJOBB | 21:00 | - | 21:50 |
20. Juli 2008
| | | | |
| --- | --- | --- | --- |
| THE LOVECRAVE | 11:00 | - | 11:50 |
| DER GRAF / UNHEILIG | 12:00 | - | 12:50 |
| L`ÂME IMMORTELLE | 13:00 | - | 13:50 |
| MEDEAEVAL BABES | 14:00 | - | 14:50 |
| DIE KRUPPS | 15:00 | - | 15:50 |
| EISBRECHER | 16:00 | - | 16:50 |
| LACRIMAS PROFUNDERE | 17:00 | - | 17:50 |
| LETZTE INSTANZ | 18:00 | - | 18:50 |
| SOKO FRIEDHOF | 19:00 | - | 19:50 |
| SUICIDE COMMANDO | 20:00 | - | 20:50 |
| DAS ICH | 21:00 | - | 21:50 |
| PROJECT PITCHFORK | 22:00 | - | 22:50 |
Special!!!

Official site of the
Amphi-Cup
( game will take place on 18.07.2008 in Cologne-Lövenich) is online now. There is a chance to take part on a competition. The winner will join the first Amphi Cup, this year. For more information check out
www.amphi-cup.de.
We wish all competitors Good Luck!
Offizielle Pressemitteilung (german)
Liebe Amphi Fans,
das Amphi Festival 2008 ist nahezu ausverkauft!!!
Seit heute ist das Vorverkaufskontingent des Amphi Festivals erschöpft. Für alle Kurzentschlossenen haben wir jedoch noch einige Tickets zurückgelegt, die Ihr Euch ab Montag den 14.07.2008 bis Donnerstag den 17.07.2008 täglich von 11:00 bis 18:00 Uhr unter der Telefonnummer 05131 – 4620923 zum Abendkassenpreis reservieren könnt. Wichtig! Der Abendkassenpreis beträgt 60,00 € für Wochenendtickets und 45,00 € für 1-Tages-Tickets (Samstag oder Sonntag). Bitte beachtet auch, dass alle reservierten Tickets bis 16:00 Uhr am Veranstaltungstag an der Abendkasse abgeholt werden müssen! Selbstverständlich sind auch vor Ort vor noch Festivaltickets erhältlich. Hierzu halten wir Euch die Abendkasse an beiden Festivaltagen von 10:00 bis 21:30 Uhr geöffnet.
Und die Spannung für das Wochenende des Jahres steigt! Am 19. & 20. Juli öffnet das Amphi Festival am Kölner Tanzbrunnen zum vierten Mal seine Tore und begrüßt Euch mit einem Programm der Extraklasse. Dabei bietet das Amphi Festival 2008 viel mehr als nur Musik:
So freuen wir uns, Euch heute zwei wahre Meister Ihres Fachs im Rahmenprogramm des Amphi Festivals ankündigen zu dürfen. Zum einen begrüßen wir den Feuerkünstler ED.Fire, der Euch nach dem Programmende der Hauptbühne an beiden Festivaltagen von 22:30 bis 23:00 mit seinem Flammenspektakel verzaubern wird. Zum anderen kündigt XtraX ein weiteres Highlight fürs Amphi 2008 an:
Antonio Magico "With The Sisserhands" gibt uns die Ehre und wird über beide Festivaltage am XtraX-Stand direkt auf dem Tanzbrunnen für Euch die Scheren schwingen. Ob ihr eine neue Frisur, Undercut oder Flat braucht, ob Ihr Euch Eure neu erworbenen Haarteile einflechten lassen wollt, Antonio wird für Euch da sein….Lasst Euch am Besten einen Termin vor Ort oder vorher schon unter monaco@x-tra-x.de geben, damit Ihr auch sicher in den Genuss seiner brennenden Scheren kommt!
Bereits am Freitag den 18.07., dem Vorabend des Amphi, geht es Köln so richtig ans Leder! Ans "runde" Leder, wohlgemerkt!
Um 19:30 Uhr ertönt in der Kölner Indoor Soccer Halle Wessels der Anpfiff zum I. Amphi Cup 2008. Fünf Teams, bestehend aus Musikprominenz, Amphi-Besuchern, Medienvertretern, Sponsoren und Veranstaltern treten in einem Fußballturnier zugunsten des Deutschen Kinderhospizdienstes in Köln an. Mit dabei, Eskil und Joakim von Covenant, Jens und Gerrit (Funker Vogt), Dirk Scheuber (Project Pitchfork), Manuel, Norman und Michael von Zeraphine und viele mehr! Der Eintrittspreis an der Abendkasse beträgt 8,00 € und der Einlass beginnt ab 18:30 Uhr. Weitere Infos zum I. Amphi Cup findet Ihr wie gewohnt unter www.amphi-cup.de.
Im Anschluss an den Sport übernimmt DJ Elvis das Kommando im alten Kölner Wartesaal, mit der offiziellen Amphi Festival Pre-Party, unter dem Motto "Depeche Mode Party vs. Sleepwalker Night". Musikalisch fahren Elvis und sein Team dabei eine bunte Mischung aus Synthiepop, EBM, Electro, New Wave, 80`s, Bodypop, Futurepop und natürlich jeder Menge Depeche Mode Hits auf.
Neben exklusive VIP-Gästen, Videoanimationen auf drei Leinwänden, erwartet Euch eine Verlosung, bei der ihr T-Shirts, CD´s, Wochenend-Tickets für das Amphi Festival und vieles mehr absahnen könnt! Zudem erhalten alle Gäste, die zwischen 22.00 – 23.00 Uhr erscheinen, einen kostenlosen Willkommens-Drink. Gegen Vorlage Eures Amphi-Festival-Tickets zahlt Ihr nur die Hälfte des Eintritts, also lediglich 4,00 EUR. Für Gäste ohne Festivalticket gilt der gewohnte Memphis-Preis von 8,00 €. Weitere Infos zur Offiziellen Amphi Pre-Party gibt's unter www.memphis-team.com.
Nach dieser gleichwohl sportlichen wie musikalischen Einstimmung auf das Wochenende, wird es am Samstags Morgen ernst:
Ab10:30 Uhr erwarten Euch am Kölner Tanzbrunnen 34 Bands auf 2 Bühnen, Autogrammstunden, Kinovorführungen und Aftershowparties im Theater, das Kinderprogramm von Gothic-Family.net, ein kompletter Beachclub und vieles vieles mehr.
Als Headliner am Samstag werden Euch Oomph! auf der Hauptbühne mit neuen Songs ihres in Kürze erscheinenden Albums "Monster" die Augen (und Ohren) öffnen und Euch amtlich einheizen! Virtuose Soundtüfteleien und der sonore Bariton Alexander Veljánovs erwarten Euch hingegen mit der Best-Of-Show von Deine Lakaien, während die schwedischen Electro-Experten Covenant, eine geballte Ladung "Ritual Noise" in den "Tanzbrunnen" pumpen. Dazu gesellen sich weitere Highlights, wie Zeromancer, Welle:Erdball, Zeraphine, Cinderella Effect, sowie die Orkus Newcomer Mina Harker.
Während die Hauptbühne mit stilistischer Vielfalt glänzt und einen breit gefächerten Mix musikalischer Top-Acts bietet, steht der Samstag im Theater ganz im Zeichen der Maschinen. Angeführt von Combichrist-Andy LaPlegua, erwartet Electrofans mit Noisuf-X, Nachtmahr, Ashbury Heights, Grendel, Rotersand, dem Haujobb Abschiedskonzert, sowie einem exklusiven Gastspiel der Electro Legende The Klinik ein deftiger Satz heiße Ohren.
Am Sonntag verschreibt sich das Theater dagegen ganz dem Motto "Nichts ist unmöglich, alles ist erlaubt!". Nach der Vorführung des Welle:Erdball Films "Operation Zeitsturm" (täglich ab 10:30), glänzt die "Gothic Stage 2008" mit kaleidoskopischem Facettenreichtum. Ob Deathrock aus den USA (Cinema Strange), Satans Klingeltöne mit SoKo-Friedhof, die niederländischen Dark-Wave Veteranen Clan of Xymox oder druckvoller Gothic-Metal mit Lacrimas Profundere, für jeden Geschmack wird etwas geboten. Nicht zu vergessen auch die Highlights am Abend, mit der ultimativen Dampframme, Eisbrecher, gefolgt von Diary of Dreams und dem Krupp´schen Hammer zum Abschlusskonzert um Mitternacht!
Auf der Hauptbühne beginnt der Sonntag mit musikalischen Streicheleinheiten der Mediaeval Baebes, gefolgt vom italienischen Temperament der Gothic-Rocker The LoveCrave. Die Letzte Instanz in Sachen Folkrock kommt derweil aus Dresden und wird in gewohnter Manier den Tanzbrunnen zum brodeln bringen. Gerade recht für Bühnenvulkan Stefan Ackermann und Das Ich, deren musikalische Glut ebenfalls für ein heißes Pflaster sorgen dürfte.
Bei der EM haben wir sie leider in der Vorrunde nach Hause geschickt, doch beim Amphi Festival sind sie jederzeit erste Wahl: Exklusiv beim Amphi 2008, Österreichs Szeneband Nummer Eins, L´Âme Immortelle, mit ihrer Melange aus romantischem Gothic-Rock und packenden Electrohymnen.
Voll eins auf die Zwölf gibt's dagegen mit Suicide Commando! Die musikalische Abräumkolonne um Johan van Roy weiß nur zu gut, wie man ein packendes Gewitter aus peitschenden Beats und pumpendem Adrenalin entfacht, gefolgt von den Hamburger Electropionieren Project Pitchfork die anschließend mit vertrackten Arrangements und anspruchsvollen Texten fesseln, bevor And One noch mal dem Spielwitz freien Lauf lassen und das Programm auf der Hauptbühne mit einer gigantischen 80´er Party beschließen.
Wer feiert muss natürlich auch mal verschnaufen. Daher sind wir sehr glücklich Euch in diesem Jahr den Beach Club "km689" präsentieren zu können. 3500m² Sandstrand, Beachbar, und bequeme Liegestühle am Ufer des Rheins, laden hier zum entspannten Chillen in gemütlicher Urlaubsatmosphäre ein, die Ihr Euch nicht entgehen lassen solltet!
Ebenfalls neu im Programm sind die erweiterten sanitären Einrichtungen. Zusätzlich zu den bestehenden Toiletten beim Theater, sowie links neben der Hauptbühne, stehen Euch in diesem Jahr auch die Toiletten der angrenzenden Rheinparkhalle für einen Boxenstopp zur Verfügung. Gefliest, bespiegelt und mit fließend Wasser versehen, kommt das Amphi Festival damit auch in diesem Jahr ohne Dixi aus!
Alle Infos zum Amphi Festival, einschließlich Geländeplan, Autogrammstunden und der Running Order, findet ihr auch im offiziellen Programmheft, dass Ihr kostenlos am Einlass erhaltet.
Seid dabei, wenn sich am 19. & 20. Juli die Tore des Amphi Festivals öffnen und Gothic-Fans aus Deutschland, Europa und der ganzen Welt, gemeinsam miteinander feiern! Alle weiteren Infos zum Amphi-Festival gibt's wie gewohnt unter www.amphi-festival.de.
Mit freundlichen Grüßen
Euer Amphi Festival Team
**************************************************************************************
Trinity-concerts presents:
Helsinki in Berlin Festival
24.-29.04.2008 Berlin
Under the Programm of Helsinkiss Berlin (01.04.- 04.05.2008) there will be the finnish music week of Trinity- Concerts (
www.trinityconcerts.de
) with bands like I Walk The Line, Stam1na and Negative playing with other in Germany not so well known finnish bands.
It starts with
Lovex
, a band from Tampere that found their way to Germany a year ago and was successfull with the single Guardian Angel and the Album Divine Insanity in the german charts. In Finland they are kinda big teen stars and they are exactly what young girls want a band to be.
On the same stage there will be
Poets Of The Fall
, a well known band for all Finnland lovers . Poets of the Fall are an independent rock band from Helsinki, that was founded by Marko Saaresto and Olli Tukiainen in 2003. The members are Marko "Mark" Saaresto, (lead vocals/ guitar), Olli Tukiainen (guitar), and Markus "Captain" Kaarlonen (producer/ keyboards); during concerts, they are accompanied by Jani Snellman (bassist), Jaska Mäkinen (rhythm guitarist) and Jari Salminen (drummer).
The Poets released the singles Late Goodbye and Lift before releasing their full-length debut album Signs of Life in Finland. The album was certified gold in May 2005 and platinum in April 2006. It topped the Finnish Top 40 chart in weeks 4 and 7 of 2005, and stayed on the list for more than a year (56 weeks), which makes it one of the most successful self-produced and self-distributed albums in the history of Finnish music. The second album, Carnival of Rust, was released in Germany on April 20, 2007.
The second day brings us to OP:L Bastards, Aavikko and Pepe Deluxe.
Op:l Bastards
was formed by Timo Kaukolampi , Vilunki 3000 (real name: Mikko Viljakainen) and Tuomo Puranen from Helsinki, Finland. Kaukolampi and Vilunki had earlier on played in the garage rock band Larry and the Lefthanded. Their original name was Opel Bastards, but they had to change it due to the pressure from Opel company. Their music is categorised as electronic music. They are described as having "specialized" in Kraut-baiting impenetrability. They released the Album The Job in 2001 and a remastered Version in 2007.
Aavikko
is a finnish synth music band, formed in Siilinjärvi in 1995. Their hallmarks include a campy, decidedly "East European" style and plastic-sounding synthesizer themes. The band themselves call their style "muysic" (a portmanteau of "mystic" and "music"); their motto is "We play - you dance!". They actually released 10 albums in the last 12 years.
Pepe Deluxé
is also an electronic music oriented band which was created by two DJ friends, Vellu Maurola aka DJ Slow and Tomi Paajanen aka JA-Jazz in the mid 90s in Helsinki, Finland. In 1995, James Spectrum aka Jari Salo, joined the band and they started to experiment with sounds of hip hop, big beat, breakbeat and downtempo. DJ Slow departed the band in 2001 to pursue his solo projects. Theyr third album was released in 2007.
The next day starts with
Disco Ensemble
, a post-hardcore / indie / punk band, originated from Helsinki. They've been noted for their energetic sound and rhythm, original neon guitar riffs and electrifying electronic synthesizer sounds. They are well known also in Gemany and will be one of the highlights of the festival. Along with them comes
Lapko
an alternative rock band from Harjavalta, formed in 1996. They are notable for their popularity in Finland, having received "radio play, explosive concerts, and voluminous critical accolades" even before releasing their debut on a well-known label, according to the All Music Guide.
Their first EP, Your Special K.O. (2003) was self-released, but they were signed to Fullsteam Records and albums Scandal (2006) and Young Desire (2007) saw them gain fame in Finland, reaching the national album charts.
To complete the three
I Walk The Line
will enter the stage on Friday. "Dark punk rock n roll, black-clad and tattooed, part Murder City Devils, part Rocket from the Crypt, part Social Distortion, with far more intelligence than the greasemonkey / gearhead mentality that my sketch might otherwise suggest. I Walk the Line would be huge in the USA if they had the right label behind them." (punknews.org)
"I Walk The Line emerged after members of fellow Finnish bands (Manifesto Jukebox, Wasted and Hero Dishonest) decided they wanted to widen their musical horizons. "Desolation Street", the second chapter in their musical journey sees them traveling an impressively less-worn road. Intelligent and well-crafted songs abound, captured in old-fashioned earthy analogue, giving proceedings a less clinical feel than the norm... Like fellow brave souls Against Me!, IWTL are another act fearlessly pushing forward the boundaries of this thing we call punk rock." (punkoi.co.uk)
On Saturday
22 Pistepirkko
opens up in the magnet. 22-Pistepirkko was founded on the ashes of a punk rock band called "Matti Mätä & SS" at Utajärvi, a small village in Northern Finland, in the year 1980. The basic principles were surprisingly clear from the very start: Make it your own way; become professional; have an international career; try to stay open for new things and keep your act straight but adventurous; compose songs; write stories that are strong, funny, sad, happy, weird... and play them to people.They released their 13th album Stuff Is Like We Yeah in 2008.
Judge Bone
are next in Magnet, Judge Bone (alias Tuomari Nurmio) meanwhile is a legend of finnish Rock'n'Roll. His debut album get very good critics everywhere, and since that Nurmio is known as the most origin finnish Singer / Songwriter in the media. He handles with traditional american Country & BluesStyle combined withthe Power of New Wave.
Debuting on the 22-Pistepirkko owened Label Bone Voyage Rec., 2008 his newest album was released and he will introduce it that night!
On sunday the Festival is located in the Knaak . With Diablo, Stam1na and Discard there comes along a hot combination.
Diablo
is a Finnish Melodic Death Metal band, formed in 1995 as Diablo Brothers. The band cite Testament, Slayer, Metallica, Megadeth, Opeth, Death and Meshuggah as influences, but influence from several Gothenburg bands, including Dark Tranquillity, Hypocrisy and In Flames, can also be heard. Their latest album, Mimic47, was released in January 2006, and reached #1 on the Finnish music charts.
Stam1na
is a Finnish metal playing musical group native of Lemi, South Karelia. Their music is perhaps best described as progressive metal with some thrash, death and alternative influences, and is sung in Finnish. They are definitly the best in headbanging while playing. Don't miss this amazing show, it doesn't matter if you understand what they sing. Their last album Raja was also released in Germany in 2008.
Discard
was formed in early 2004 by Ohto Jaatinen (guitar), Toni Ronkainen (drums), Eero Kankkunen (guitar) and Vellu Kuronen (bass) out of the ashes of the group's previous project, Antar. Shortly after that Heikki Miettinen (vocals) joined the band and Vellu was ousted from the band. Discard's first demo, "Demo 2004", was recorded over the summer 2004 and was released shortly before Christmas. The beginning of 2005 marked a quieter period for Discard, as Eero moved to another part of Finland and eventually decided to leave the band. The void was soon filled by Janne Roiha (guitar), the producer of "Demo 2004" and not long after that a new bass player, Mikko Kytösaho, was found. Thus the current line-up was complete. In the beginnig of 2007 Discard sold it's soul to Shadow World Records.
On Monday the Tampere-glamour enters Berlin with three close related bands:
Negative, Dead by Gun
and
Flinch
, that all togther did a great projekt in 2007 and released "too much love will kill you ".
Negatives head Jonne Aaron is not just the Producer of Flinch but also the brother of Flinch -singer Ville. Negatve and Flinch will both release new albums in Spring 2008 and for Flinch it is the first gig outside of Finland. Negative come along with a new guitarist after 7 years together with the old lineup. Their amazing live shows are legend and the columbia hall is a well known location for the band, that always was filled up to the top when Negative played there .
Dead by Gun are a real punkrock band, also from Tampere, that only can be described as GOOD. They are just very good in what they are doing. Check them!
The festival closes with some traditional artists :
M.A. Numminen + Sväng +
Marko Haavisto & Poutahaukat.
Numminen is not just a musician but more an entertainer. Sväng plays polka and Rumppa with harmonicas and marko Haavisto ja Poutahaukat are heroes in their country for their big, wild live shows. If you are not afraid of some culture -shock-moments, go and watch these bands.
Festival-Plan:
24. April 2008, Columbia Club

Lovex + Poets Of The Fall + Manboy

Op:l Bastards + Aavikko + Pepe Deluxe

25. April 2008

, ColumbiaClub

Disco Ensemble
+ Lapko + I Walk The Line + 2 weitere Bands

22 Pistepirkko
+ Judge Bone + Support

Diablo + Stam1na + Discard

28. April 2008

, ColumbiaClub

Negative

+ Dead By Gun + Flinch

29. April 2008

, Quasimodo

M.A. Numminen + Sväng +
Marko Haavisto & Poutahaukat


Tickethotline: 030 780 99 810
www.trinityconcerts.de
www.helsinkissberlin.de
www.citadel-music-festival.de
back **************************************************************************************

On A Dark Winters Night Festival 2007

Oberhausen, December, 29

Fans of gothic and metal music, look out

!

Everyone who is in the mood for a decent festival in the time between Christmas and New Year, should check out the "On a dark winter's night"!

Said festival will take place on December, 29 in Oberhausen (König-Pilsener Arena) and showcase a devastating line-up.

Headliner of the evening will be NIGHTWISH, who will introduce their brand new album "Dark Passions Play" - including the new vocalist Anette Olzon in Germany after playing a US tour and some warm up gigs in Europe.

Besides this top-class band from Finland, "On a dark winter's night" will present a thoroughly strong festival program of the german and international music scene.

The Italian industrial rockers DOPE STARS INC. will be in on it, as well as the german band JESUS ON EXTASY that also stands for the industrial szene. Both bands were touring together through Germany this spring.

But there's still more to it than that!

Additional acts are BLIND, the finnish metal combo TAROT that is close related to Nightwish with the Hietala brothers, the german metal / a capella band VAN CANTO and as recently announced, the finns from AMORPHIS that toured through Germany this fall.

Furthermore there has been a change in the line-up. LETZTE INSTANZ will rock the hall instead of Samsas Traum.

Now the line-up reads as follows:

- NIGHTWISH

- LETZTE INSTANZ

- BLIND

- DOPE STARS INC.

- JESUS ON EXTASY

- AMORPHIS

- TAROT

- VAN CANTO

So, everyone who's ready for a dark wave of loud music should save his ticket - NOW!

© www. northern-rockmusic.com - Julia

*************************************************************************************

(German version!)

Fans von Gothic und Metal Musik aufgepasst

Wer zwischen Weihnachten und Neujahr nochmal richtig Lust auf ein ordentliches Festival hat, ist bei "On a dark winter's night" genau richtig!

Besagtes Festival wird am 29.Dezember 2007 in Oberhausen (König-Pilsener Arena) stattfinden und euch ein Line-up der Extraklasse präsentieren.

Headliner des Abends werden NIGHTWISH sein, die ihr neues Album "Dark Passion Play" vorstellen - inklusive der neuen Sängerin Anette Olzon, die abgesehen von einem Warm Up Gig in Hamburg hier ihr Deutschland Debut geben wird. Nightwish kommen gerade von ihrer großen US-Tour zurück!

Neben dieser hochkarätigen Band aus Finnland, präsentiert "On a dark winters night" ein durch und durch starkes Festivalprogramm aus deutscher und internationaler Musikszene.

Die italienischen Industrialrocker von DOPE STARS INC. sind mit von der Partie, sowie die deutsche Band JESUS ON EXTASY die ebenfalls dem insustrial zuzuordnen sind, beide Bands tourten im Frühjahr bereits gemeinsam durch Deutschland.

Aber das ist noch lange nicht alles!

Weitere Acts sind BLIND, die finnische Metal Band TAROT,die durch die Hietala Brüder in enger Beziehung zu Nightwish stehen, die deutsche Metal / A capella-Band VAN CANTO und, wie vor kurzem bestätigt, die Finnen von AMORPHIS die diesen Herbst bereits in Deutschland tourten.

Desweiteren gab es eine Änderung im Line-up. An stelle von Samsas Traum werden LETZTE INSTANZ auftreten und die Halle rocken.

Das Line-Up lautet demnach wie folgt:

- NIGHTWISH

- LETZTE INSTANZ

- BLIND

- DOPE STARS INC.

- JESUS ON EXTASY

- AMORPHIS

- TAROT

- VAN CANTO

Wer jetzt noch nicht überzeugt ist, ist selber Schuld!

© www.northern-rockmusic.com - Julia




Apocalyptica on Tour with the new album " Worlds Collide" that hits straight the top ten in Germany. Apocalyptica is a Finnish musical group consisting of three, formerly four, classically trained cellists and, since 2005, a drummer: Eicca Toppinen – Cello, Paavo Lötjönen – Cello, Perttu Kivilaakso – Cello, Mikko Sirén – Drums. All three cellists are graduates of the Sibelius Academy in Helsinki, Finland.
Don't miss this great experience of classic cello instruments together with hard rock drums and electric guitar. The songs are big, fulminant and fulfilling, there is nothing else like Apocalyptica in the music szene. The finnish band had a big success with covering Metallica songs instrumental. They worked together with singers like Nina Hagen, Sandra Nasic (Guano Apes) or Martha (Die Happy). On the new album they have a faboulous song with vocalist Christina Scabbia (Lacuna Coil). It is always an honour to be a part of an Apocalyptica album. If you wanna see this incredible show live, check the Tourdates and enjoy the Finns on some date. Their name shows what and how they play: apocalyptic music!!

Sturm und Drang is a very young finnish metalband and even if they are still boys their music sounds heavy and grown up. Their first album " Learn to rock" was released in 2007 and the media was very positive about this band. Just forget about that the guys are underage and let them into your heart, it's an refreshing experience. And it is nice to see, that young kids start to listen to handmade metal music because of this band instead of plastic pop that sourrounds us everywhere in life.

Stam1na is also a finnish metalband but singing in finnish, so it's a nice experiment to tour in Germany. People that love the finnish music szene know this band and other metal bands with finnish lyrics for longer and are sure that this is not impedimental to be successful in Germany. You also can see that bands singing german are successful in Finland! So why not trying to play here. Stam1na released two albums: Stam1na (2005)& Uudet Kymmenen Käskyä (2006) and we are excited what the next album will bring to us.

(c) Frances Amelie Sin™

Negative, Sunrise Ave., Gentleman, Mando Diao and more...